Has your sourdough ever come out of the oven feeling heavy?
Mine has. Just this week in fact. I was asked if I could bake a loaf for a friend two days before the loaf was needed. My starter has been lying dormant in the fridge for about three weeks. I guessed that I might not have enough time to revive it properly before it was needed and I was right. So if your sourdough has ever been dense, I hope that my experience will help.
I had one day to revive the starter before I would need to use it if the loaf was going to be baked in time to be delivered to our friend.
I fetched the starter out of the fridge, threw away half of it and gave it about the same amount of flour as the starter weight and enough water to mix it to a loose slurry.
The past few days have been cold and wet and so the kitchen hasn't been a lovely warm refuge for the starter. I left it for about 8 hours, discarded half again and repeated the feed.
The next morning, the starter was a bit bubbly but not as active as I normally like it to be before using. I decided to risk it. I took 30g and added 100g white bread flour and 100g water and mixed it well. I left it for another 6 hours and then used it to make my loaf. The resulting loaf failed to spring much in the oven, it failed to caramelise on its crust, remaining pale, insipid and with a few overly dark spots. The loaf feels heavy and the crumb is dense with a few large holes. All in all, a disappointing loaf. I knew it would be, but I thought I would risk it. Here it is, in all of its non-glory: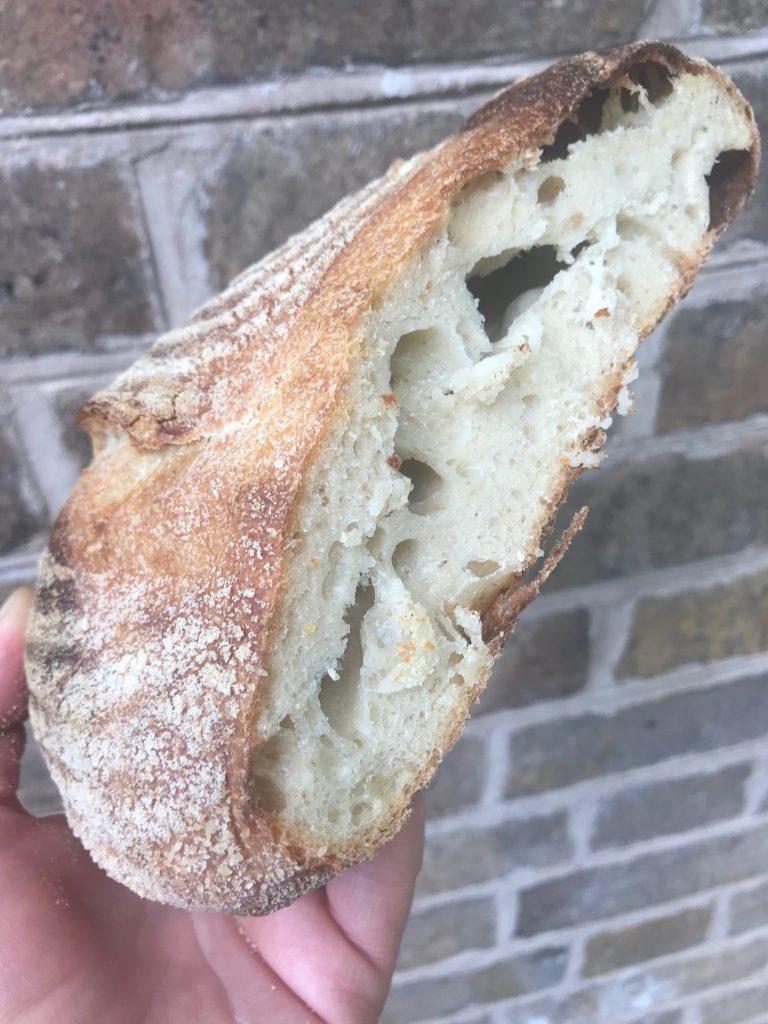 What went wrong with my sourdough?
As I discussed in yesterday's post, to make good sourdough you need a good starter. Something that has life, is bubbly and vigorous.
Sometimes I can take a starter out of the fridge after it has been in there for a month or more and give it two refreshes (as described above, discarding half and feeding with flour and water) and it bounces back into life and is ready to go. Other times, it just needs a bit of extra attention. The cold, wet weather hasn't helped. Our kitchen door is also our front door and it remains open a lot of time, unless it is really cold. So the last few days, there has been a definite cold draft in the kitchen. We are hardy beasts so don't mind, the starter obviously decided that it did mind.
If I had given it an extra day and a couple of extra feeds and paid a bit more attention to it, placing it in a warmer spot, it would have recovered and bounced back.
Good sourdough bread starts with a good starter and if you don't have that then no extra dough development or leaving it to prove for longer will help. To fix it you need to get back to basics. Take a spoonful of the lethargic starter and give it 100g flour, 100g warm water, give it all a good stir and leave in a warm place for 6-8 hours. Repeat enough times as the starter requires to get back to being its happy, bubbly self. If you don't you will end up like me and our friend, disappointed.
And if your sourdough starter refuses to be bubbly…
A final bit of advice, that I tell all of my students – sometimes a starter gives up. Maybe it just gets fed up of being put in the fridge too much or the weather has been too warm for it. Sometimes you can refresh a starter 4-5 times and it remains as flat as a pancake. If this happens, don't worry about just start again. Make a new starter. In a week's time you will be making lovely sourdough loaves again.
Making bread is always a learning curve, grasp the opportunity to learn and improve.
Do you want to learn more about making sourdough?
Join us for a relaxing, fun day learning how to master sourdough at our cookery school in Ironbridge