Our Christmas Breads online course shows you how to make delicious savoury and sweet breads that will be the centrepiece of your celebrations.
This course is available to buy individually or you can access all of my online courses when you become a member of my Bread Made Easy Membership.
What to expect from the Christmas Breads online course
This course is suitable for those already familiar with making bread but want to expand their repertoire. I show you shaping techniques and ways to flavour bread that are easily adapted. By adapting them you can make them all year round and not just at Christmas.
This course shows you how to make:
Pear & Blue Cheese Focaccia,
Harissa & Pesto Christmas Tree Bread,
Mincemeat Wreath,
Cinnamon Star and
Stollen.
A recipe book accompanies the course. This can be downloaded and printed off for use in the kitchen.
All of the videos in our online courses have subtitles which makes them suitable for watching without the sound turned up.
Our other online courses
You may also be interested in our Easter Breads and Savoury Breads courses. Or how about becoming a member of my Bread Made Easy Membership? For a small monthly fee you can access all of my online courses and join me for a live monthly demo and bread chat with other members.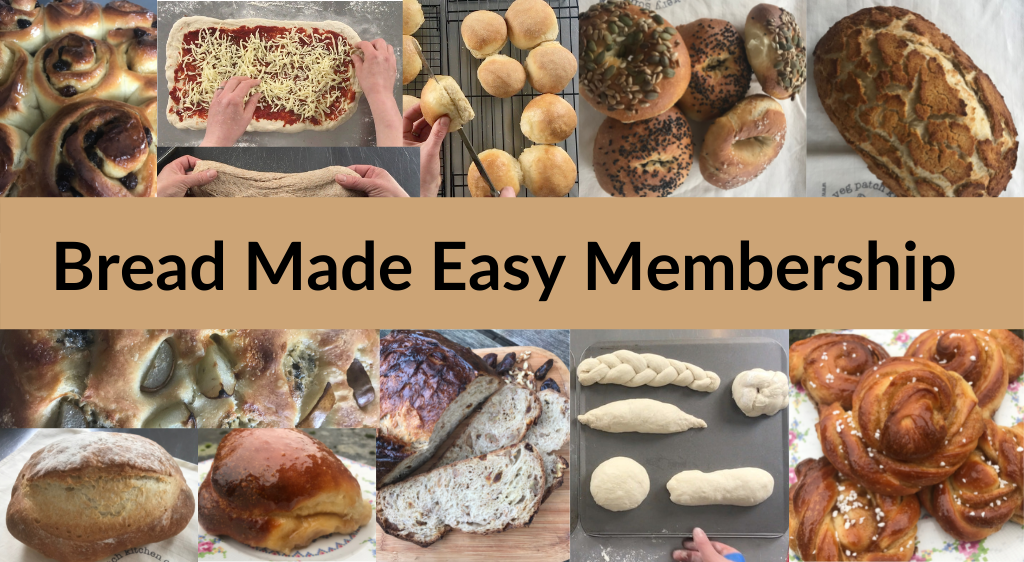 Our cookery school
You can also join us at our cookery school in Ironbridge, Shropshire. We run a variety of bread and pastry courses suitable for all abilities. Join us for a fun and relaxing day learning skills and meeting new people. We also offer tailor made classes for groups of up to five people. We keep our classes small so that everyone can benefit from personalised tuition.
Learn more about making bread
You can join our Facebook group Bread Made Easy to learn more about bread making from our friendly community. It's a place to ask questions, learn from my regular articles, post photos of your breads and help inspire others to make bread at home. You can also take a look at the articles on here or pop over to my YouTube channel.