Bread Made Easy Membership
Join today and master the art of bread making with expert tuition from Kath
Become a member and benefit from expert tuition to master the art of bread making.
If you are struggling to make bread or feel stuck in a rut making the same loaf over and over again then I am here to help. With my online membership you can:
✅ Get advice and help from Kath to make sure you achieve success with your bread making.
✅ Learn the basics, step by step, with my tips and techniques for making bread the easy way.
✅ Understand how the science of bread making works so you can troubleshoot your dough.
✅ Learn advanced methods to improve the flavour and texture of your breads.
✅ Become part of a friendly, welcoming community that will help you every step of the way.
✅ Join us for a monthly demo and bread chat over Zoom.
✅ Have over 50 bread recipes at your fingertips to impress family and friends. Everything from soft bread that stales more slowly to crusty artisan loaves to bagels, baguettes. ciabattas, flatbreads, focaccia, sweet buns, tear apart loaves and many more.
What's included?
This is a selection of some of the online courses that are included in the membership. I add to the online courses regularly.
Whether you are new to making bread or already love making bread but want to learn more, my Bread Made Easy Membership will help.
I have designed the membership so that you have the information you need to transform your bread making. You get full access to all of my online courses that take you step by step through the process from the very basics through to advanced techniques so that you get the very best flavour from your bread. You become part of a friendly community that will support your bread making journey. We meet each month online to discuss bread and to make sure you have chance to ask any questions that you have. I demo a technique or recipe to consolidate your learning. My Bread Success Road Maps help you navigate your way through the online courses so that you can gain maximum benefit fast.
The online courses are a mixture of video and text lessons, accompanied by recipe cards and downloadable ebooks. They are all subtitled so you can watch them with the sound off. You can dip in and out as much as you like, all from the comfort of your own home.
I have made the cost of the membership as affordable as possible so that you can start your own bread making journey today.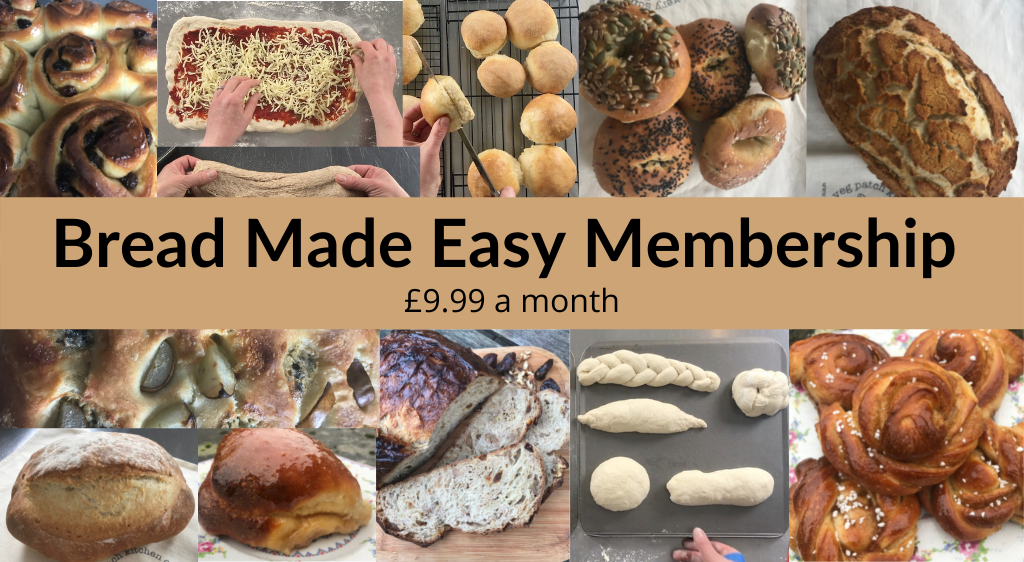 New to bread making?
Love making bread, but stuck in a rut?